Comrades Against Extinction Musical Procession
Join us to create a collective musical procession! We are searching for people to carry signs as part of the artwork Comrades Against Extinction on the Night of the Arts, Thursday 18 Aug and at the rehearsal on Wed 17 Aug.
Radha D'Souza & Jonas Staal: Comrades Against Extinction
18.–21.8.2022
Musical procession on the Night of the Arts 18 Aug at 6–7 pm.
In August a 15-meter tower will be built on Kansalaistori Square, consisting of images of extinct animals, facing the parliament building of Helsinki. For Radha D'Souza and Jonas Staal, the artists of the project, these animals are non-human comrades: martyrs of the climate catastrophe and part of our struggle for living worlds for all.
On the Night of the Arts, the Comrades in Extinction tower turns into a live festival of remembrance and resistance that calls for regeneration of life and species. A musical procession at the installation will be led by the singers Ánnámáret, Anni Elif and Ali Saad, together with the Philomela Choir. Everyone is welcome to join, to remember and honor non-human ancestors, and to declare our solidarity across species against extinction.
Join us to carry a sign of an extinct species. The search is open till Thu 11 Aug. Applicants must be 18 years or older.
The participation is confirmed by e-mail by Wed 10 Aug. There is no fee for the participation. Each participant has the chance to redeem the sign for caretaking. The signs are handed out on Sun 21 Aug.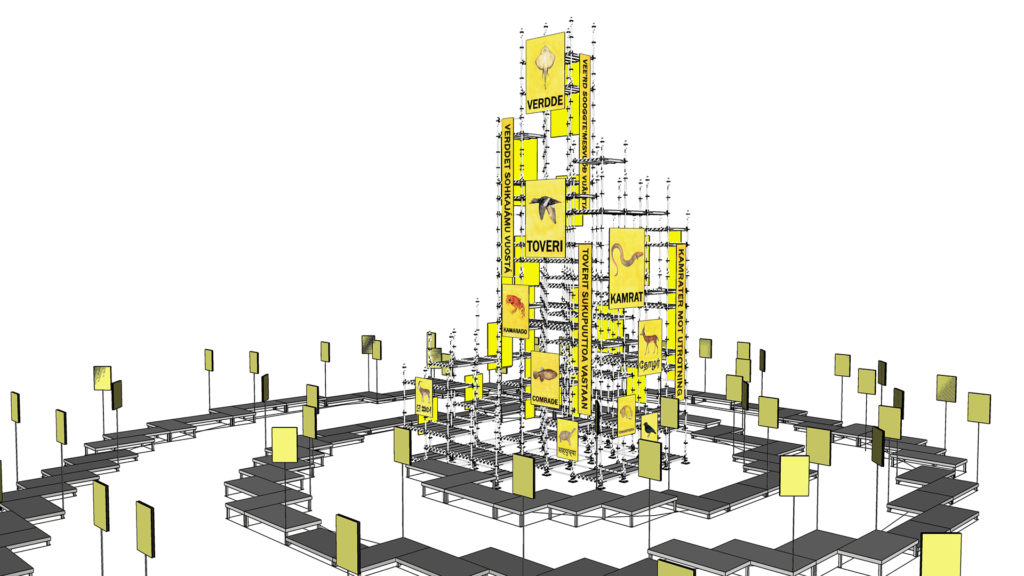 Schedule:
Rehearsal Wed 17 Aug at 7–8pm.
Arrival on Thu 18 Aug at 5pm, formation of the procession 5.30–5.45pm, performance 5.45–7pm.
The signs are handed out on Sun 21 Aug at 6–7pm.
NB: the participant has to be able to carry a sign weighing approximately 5 kg for the distance of 1 km. It is possible to carry the sign with a wheelchair with an own escort.

Supported by Mondriaan Fund