Rimini Protokoll: Uncanny Valley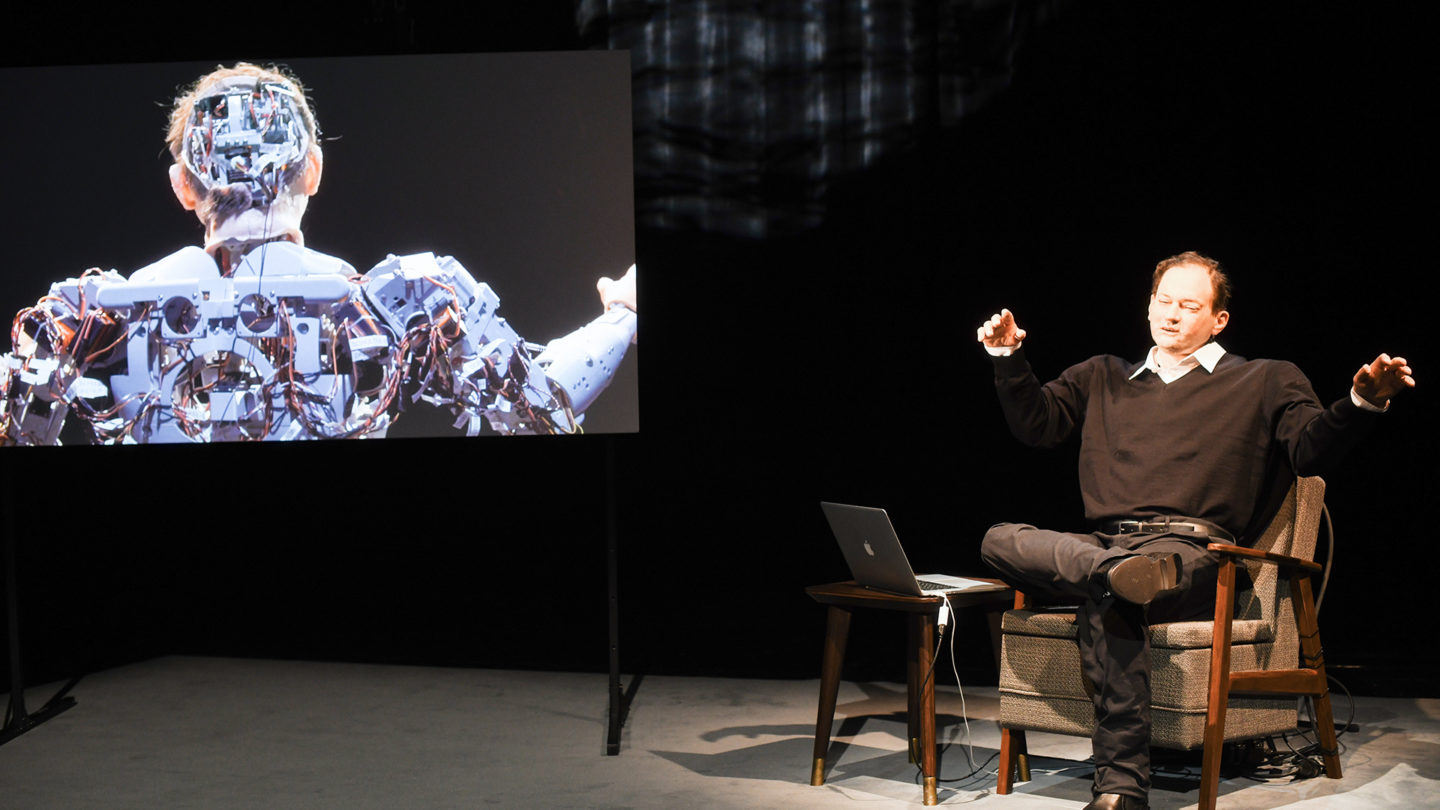 Event Introduction
We mostly think of robots as work machines, as efficient and precise executors of tasks. In German industry, they barely look like people, to avoid emotional complications. Unlike in Asia, where humanoid robots have already been developed for some time, for example for care-work or as sex partners. The external similarity to human beings makes the acceptance of machines easier. However, if the machine is too similar to a human, we begin to feel mistrust: what is human, what is machine? Japanese robotics researchers call this weird similarity the "uncanny valley".
For his new play, Stefan Kaegi works with a writer and playwright for the first time: Thomas Melle allowed an animatronic double of himself to be made. This humanoid takes the author's place and throws up questions: what does it mean for the original when the copy takes over? Does the original get to know himself better through his electronic double? Do the copy and his original compete or do they help each other?
Helgard Haug, Stefan Kaegi and Daniel Wetzel founded the theatre-label Rimini Protokoll in 2000 and have since worked in different constellations under this name. Work by work they have expanded the means of the theatre to create new perspectives on reality.
Rimini Protokoll often develop their stage-works, interventions, performative installations and audio plays together with experts who have gained their knowledge and skills beyond the theatre. Furthermore, they like to transpose rooms or social structures into theatrical formats. Many of their works feature interactivity and a playful use of technology.
The performance is part of the Espoo City Theatre repertoire
Working group:
Concept, Text & Direction: Stefan Kaegi
Text / Body / Voice: Thomas Melle
Equipment: Evi Bauer
Animatronic: Chiscreatures Filmeffects GmbH
Manufacturing and Art Finish of the silicone head / coloration and hair: Tommy Opatz
Dramaturgy: Martin Valdés-Stauber
Video Design: Mikko Gaestel
Music: Nicolas Neecke
Production management: Rimini Protokoll / Touring: Epona Hamdan
Light Design / Touring: Robert Läßig, Martin Schwemin, Lisa Eßwein
Sound and Video Design / Touring: Jaromir Zezula, Nikolas Neecke
Performance rights: Rowohlt Theater Verlag, Reinbek bei Hamburg
This play from Rimini Protokoll has originally been produced by the Münchner Kammerspiele, in coproduction with  Berliner Festspiele – Immersion, donaufestival (Krems), Feodor Elutine (Moscow), FOG Triennale Milano Performing Arts (Milano), Temporada Alta - Festival de Tador de Catalunya (Girona) and SPRING Utrecht.
Categories
Performing arts, More Than Human
Map
Event Information
Time:

Thu 18.8.2022 18:00

Thu 18.8.2022 20:30

Fri 19.8.2022 18:00

Fri 19.8.2022 20:30

Sat 20.8.2022 15:00

Duration: 1 h

Address:

Espoo Cultural Centre, Louhi Hall
Kulttuuriaukio 2
02100 Espoo

Tickets:

29 / 26 / 15 € € (Lippu.fi)