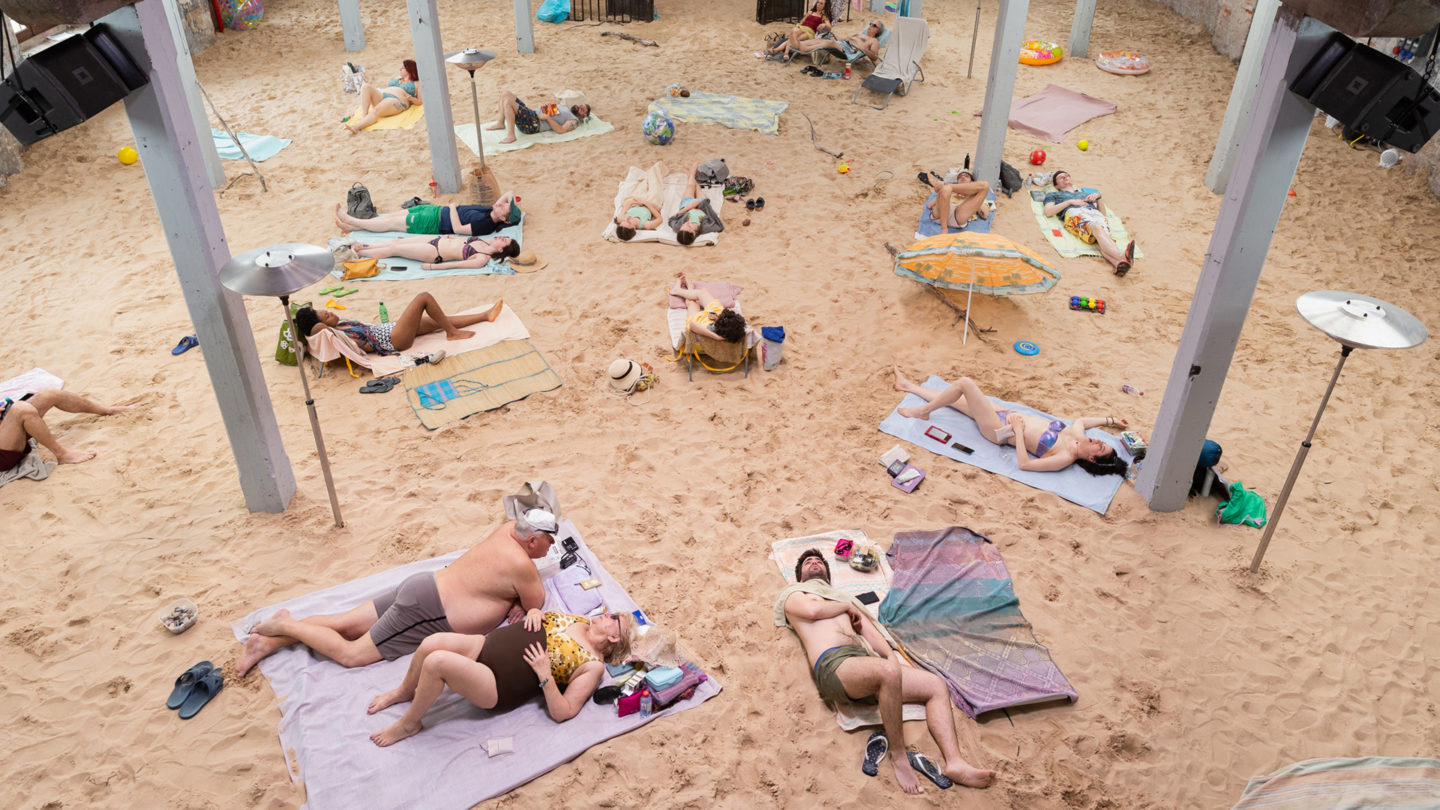 Event Introduction
One of the performative works at ARS22 will be Sun & Sea. Commenting on the current climate crisis, the immersive operatic work won the Golden Lion for the best pavilion at the Venice Biennale in summer 2019. 
Sun & Sea takes place on an artificial beach where sunbathers share stories and thoughts by singing.
The main theme of the opera is concern for climate change. It focuses especially on the relationship between reality and poetry, and the overlap between theater, music, and the visual arts.
Sun & Sea represented Lithuania at the 58th Venice Biennale in 2019, where it won the Golden Lion award for the Best National Participation.  
Instructions for the audience   
You can see the performance from Wednesday to Friday and buy an entry ticket for 3pm, 4pm, 5pm and 6pm.
You can watch the performance from a balcony above the stage.  
The performance is ongoing.
Please note that the work is viewed standing up. Wheelchair spaces are available.  
Artists 
Rugilė Barzdžiukaitė (b. 1983, Vilnius) is a filmmaker, theater director and visual artist.   
Vaiva Grainytė (b. 1984, based in Lithuania and Canada) is a writer, playwright and poet. Her creative work tends to cross the confines of desk work and be manifested in interdisciplinary practices such as radio plays, site-specific and dance performances, and musicals.
Lina Lapelytė (b. 1984, based in Vilnius and London) is an artist, composer and performer. Her performance-based practice is rooted in music and contains references to pop culture, gender stereotypes and nostalgia.   
The team 
Concept and development: Rugilė Barzdžiukaitė, Vaiva Grainytė, Lina Lapelytė
Director and set designer: Rugilė Barzdžiukaitė
Librettist: Vaiva Grainytė
Composer: Lina Lapelytė
Curator: Lucia Pietroiusti
Libretto translator: Rimas Uzgiris
Singers: Svetlana Bagdonaitė, Evaldas Alekna, Aliona Alymova, Teresė Andrijauskaitė, Milda Andrijauskaitė-Bakanauskienė, Arūnas Arlauskas, Marco Cisco, Nabila Dandara, Saulė Dovydėnaitė, Auksė Dovydėnaitė, Claudia Graziadei, Sandro Hähnel, Elisabeth Holmer, Lucas Lopes Pereira, Artūras Miknaitis,, Eglė Paškevičienė, Vytautas Pastarnokas, Salomėja Petronytė, Kalliopi Petrou, Ieva Skorubskaitė, Elisabetta Trevenzuoli, Annapaola Trevenzuoli (TBC).
Performers: Raminta Barzdžiukienė, Vincentas Korba, Ona Lapelienė, Jeronimas Petraitis, Juozas Petraitis, Mantas Petraitis, Pranas Petraitis,, Jonas Statkevičius (TBC).
Live soundtrack: Salomėja Petronytė, Evaldas Alekna
Sound engineer: Romuald Chaloin Galiauskas
Tour manager: Aušra Simanavičiūtė
Production manager: Erika Urbelevič
Technical director: Lique Van Gerven
Principal producer: Neon Realism
Commissioner (Sun & Sea (Marina), Venice, 2019): Rasa Antanavičiūtė  
In co-operation with 
Nida Art Colony of Vilnius Academy of Arts, Akademie Schloss Solitude, Goethe-Institut, JCDecaux, Münchner Kammerspiele, National Gallery of Art, Vilnius, StaatsschauspielDresden, The Momentary, Arkansas 
The work is produced in Kiasma in collaboration with Helsinki Festival and Jane and Aatos Erkko Foundation. 
Supported by 
Founding patrons (Sun & Sea (Marina), Venice, 2019): Lithuanian Council for Culture; Ministry of Culture of the Republic of Lithuania; Laurenz Foundation, Basel; Vilnius City Municipality.  
Categories
Map
Accessibility
There is a ramp at the main entrance providing access to, for example, Cable Factory shop / Info, Merikaapelihalli, the restaurant, Puristamo and staircase C. Another ramp is also located at the door to the museums. Pannuhalli and Turbiinisali can be accessed without impediment from outdoors. Valssaamo and Zodiak can be accessed by wheelchair using the elevator in staircase B. The event producers are responsible for accessibility with a wheelchair as well as entrance routes.
More accessibility information on the Cable Factory's webpage »
Event Information
Time:

10.–14.8., 17.–21.8., 24.–28.8.

Address:

Cable Factory, Merikaapelihalli
Kaapeliaukio 3
00180 Helsinki

Tickets:

30 / 25 € (Lippu.fi)