Conception : Boris Charmatz [terrain]
A Dancer's Day raises two questions: what does the day of a dancer look like beyond the time of performance? What structures the dancer's relationship to time, expenditure of energy and recuperation, creation and rehearsal? And, further, how to unfold and expand the perception of a choreographic work—how to show it, how to experience it other than on the stage of a theater? Through warm-ups, teaching, and workshops, the choreographic work and becomes accessible to everyone, big and small.
By following the rhythm of a single day, A Dancer's Day allows to approach the activity of the dancer in its creative dimension, both in terms of concrete work and the most ordinary aspects of daily life. Moving. Learning. Eating. Resting. Looking. Redoing. Understanding. Moving again. In the course of each of these actions punctuated by a warm-up, a picnic, a siesta, a performance, or a dance-floor, everyone is invited to experience the relationship to expenditure of energy, fatigue, the pleasure of rehearsal and the production of gestures. In the back-and-forth between the inside and the outside, between seeing and doing, the gaze and practice, A Dancer's Day expands upon the questions raised by Fous de danse and 10000 gestes in 20,000, in 50,000 … in 100,000 gestures!
Gilles Amalvi, 2017
Schedule:
15h00: open doors
15h30 – 16h15: Warm-up with 24 dancers
16h15 – 17h15: Visitor's workshop 10000 gestes with Boris Charmatz
17h30 – 18h20: Picnic and (untitled) (2000) by Tino Sehgal with Frank Willens
18h20 – 18h35: Common sleep
19h00: 10000 gestes by Boris Charmatz
20h00: Dancefloor /Rebeka Warrior dj set
20h50: étrangler le temps  with Boris Charmatz and Emmanuelle Huynh freely inspired by Odile Duboc's bolero 2 (1996)
Bring your picnic and comfortable clothing
Production / distribution : [terrain]
A production by Musée de la danse / Centre chorégraphique national de Rennes et de Bretagne (2017)
A Dancer's Day was created on September 14, 2017 at Tempelhof, Volksbühne, Berlin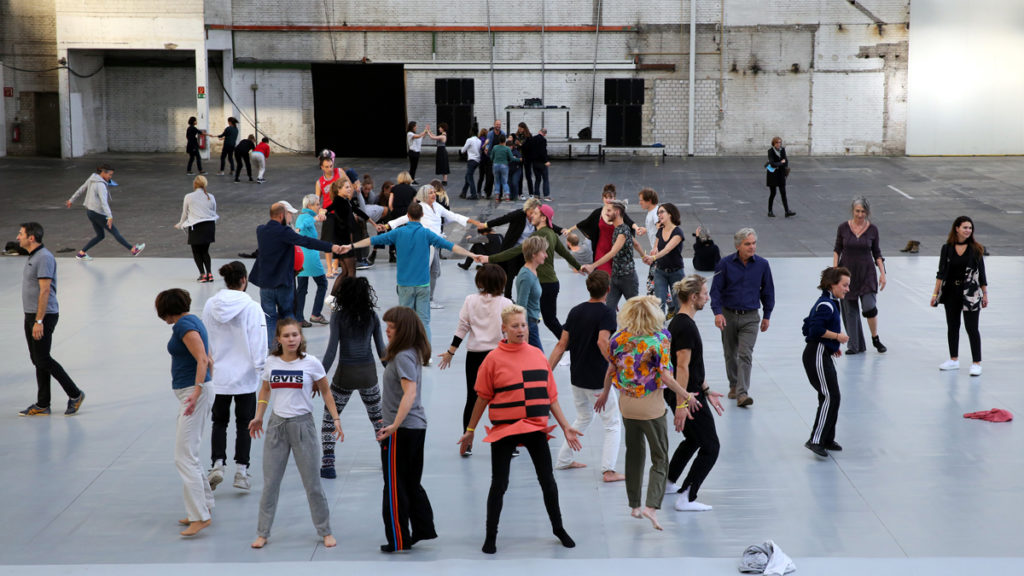 10000 gestes with
Or Avishay, Régis Badel, Jayson Batut, Nadia Beugré, Alina Bilokon, Nuno Bizarro, Eli Cohen, Olga Dukhovnaya, Sidonie Duret, Bryana Fritz, Julien Gallée-Ferré, Kerem Gelebek, Alexis Hedouin, Rémy Héritier, Pierrick Jacquart, Noémie Langevin, Samuel Lefeuvre, Johanna Elisa Lemke, François Malbranque, Noé Pellencin, Mathilde Plateau, Samuel Planas, Solène Wachter, Frank Willens
choreographic assistant Magali Caillet Gajan
lights Yves Godin
costumes Jean-Paul Lespagnard
vocal work Dalila Khatir
general stage manager Fabrice Le Fur
sound technician Olivier Renouf
light technician Samuel Dosière
stage manager Max Potiron
dresser Marion Regnier
deputy director [terrain] Hélène Joly
direction of productions Lucas Chardon, Martina Hochmuth
production managers Jessica Crasnier, Briac Geffrault
sound material Requiem in D minor K.626 by Wolfgang Amadeus Mozart (1756–1791), performed by the Wiener Philharmoniker conducted by Herbert von Karajan and recorded at the Wiener Musikverein in 1986 (1987 Polydor International GmbH, Hamburg); field recordings by Mathieu Morel in Mayfield, Manchester
production / distribution terrain
A production Musée de la danse / Centre chorégraphique national de Rennes et de Bretagne (2017)
coproduction Volksbühne Berlin, Manchester International Festival (MIF), Théâtre National de Bretagne-Rennes, Festival d'Automne à Paris, Chaillot – Théâtre national de la Danse (Paris), Wiener Festwochen, Sadler's Wells (Londres), Taipei Performing Arts Center.
thanks to Djino Alolo Sabin, Salka Ardal Rosengren, Mathieu Burner, Dimitri Chamblas, Amélie-Anne Chapelain, Julie Cunningham, Maud Le Pladec, Mani Mungai, Jolie Ngemi, Sandra Neuveut, Marlène Saldana, Le Triangle – cité de la danse, Charleroi Danses - Centre chorégraphique de la Fédération Wallonie-Bruxelles, P.A.R.T.S., Archivio Alighiero Boetti and Fondazione Alighiero e Boetti; Chiara Oliveri Bertola / Castello di Rivoli Museo d'Arte Contemporanea
10000 gestes premiered on September Thursday 14, 2017 at Volksbühne, Tempelhof, Berlin, Germany
(untitled) (2000)
Tino Sehgal is one of the world's most prolific artists, his work has become well known as it has moved through the museums of the world and included major exhibitions at the 2005 Venice Biennale, Documenta 13 and solo shows at the Guggenheim New York, London's ICA and Tate Modern (Turbine Hall) (untitled) (2000), made before he moved from dance into the visual arts, in many ways describes the start of Tino's relationship with these museums and their place in teaching societies how to conduct and understand themselves.
Set in the theatre (untitled) (2000) exhibits 20th Century dance, resituating choreographic practices and their associated vision of the body in an aesthetic order similar to the museum.
running time 50 min
choregraphy Tino Sehgal
interpretation Frank Willens
production and distribution [terrain]
A production Musée de la danse – Centre Chorégraphique National de Rennes et de Bretagne (2013)
Coproduction: Tanz im August (Berlin), Kaaitheater (Bruxelles), Les Spectacles vivants Centre Pompidou – Paris, La Bâtie-Festival de Genève et Bonlieu Scène nationale Annecy as part of the projet PACT, beneficiary of FEDER with the programme INTERREG IV A France-Switzerland
étrangler le temps
Freely inspired by boléro 2
(excerpt from the performance trois boléros, conceived by Odile Duboc and Françoise Michel, 1996)
"I wanted to strangle time." Tatsumi Hijikata, The Ailing Dancer
In homage to Odile Duboc, Boris Charmatz and Emmanuelle Huynh draw inspiration from the choreography of the duet boléro 2 in order to produce another score from memory, relying on the drawn-out music of Maurice Ravel.
running time 50 min
interpretation Boris Charmatz, Emmanuelle Huynh
stage design and lighting Yves Godin
sound Olivier Renouf
sound material Stretching out of the Boléro de Ravel
production / distribution [terrain]
Created in 2009 at Musée de la danse, Rennes