Musiikkitalo, Konserttisali
29.8.2022 klo 19
Chineke! Orchestra
Kevin John Edusei, kapellimestari / conductor
Sheku Kanneh-Mason, sello / cello
Ohjelma / Programme:
Brian Nabors (*1991): Pulse
Dmitri Šostakovitš (1906–1975): Sellokonsertto nro 2
Largo
Allegretto
Allegretto
––
William L. Dawson (1899–1990) : African-American Folk Symphony
The Bond of Africa
Hope in the Night
O, Le' Me Shine, Shine Like a Morning Star!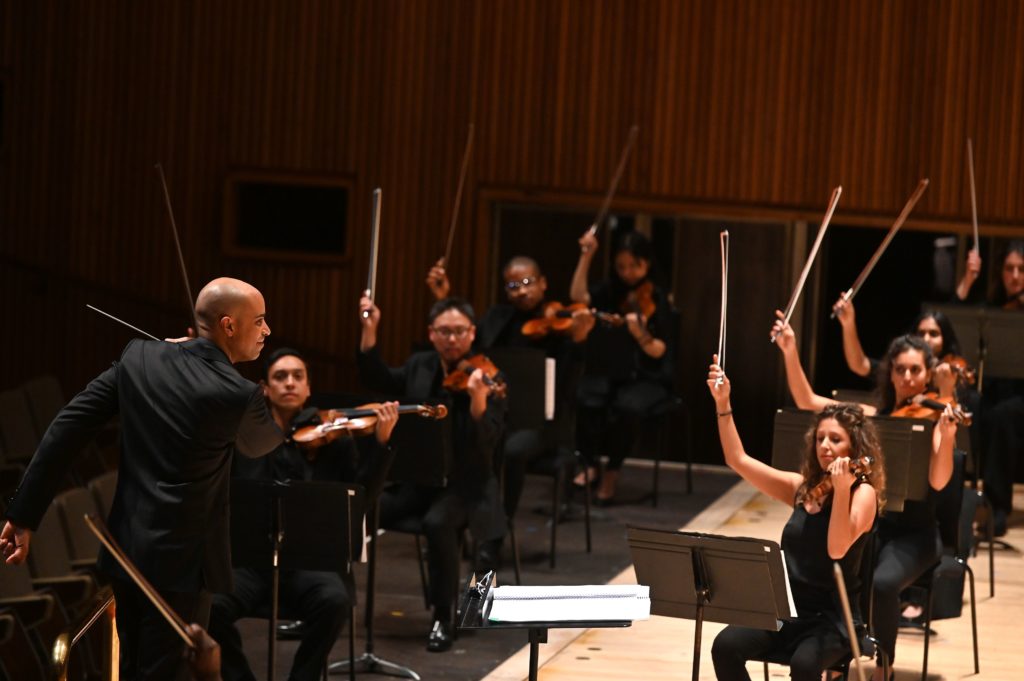 Brian Raphael Nabors: Pulse
Alabaman Birminghamista syntyisin olevan Brian Raphael Naborsin (s. 1991) musiikin lähtökohdat ovat jazzissa, funkissa, rhythm and bluesissa ja gospelissa. Lisäväriä tuovat vaikutteet klassisesta nykymusiikista. Yhdysvaltojen syvän etelän perinteet, hengellisyys kenties keskeisimpänä, ovat hänen musiikkinsa pääasialliset innoittajat. Suuri osa hänen tuotannostaan käsittelee ihmisenä olemista sekä ihmiselämän ja luonnon suhdetta. Musiikki on Naborsin mielestä tärkeässä roolissa yhteiskunnallisista epäkohdista koskevassa keskustelussa. Ongelmia ovat esimerkiksi ennakkoluulot, fanaattisuus ja rasismi.
Pianistina Nabors on monipuolinen ja soittaa monen tyyppisissä yhtyeissä. Hän toimii kirkkomuusikkona, kosketinsoittajana rhythm and blues/neo-soul –yhtyeessä ja myös klassisena taiteilijana. Usean tyylin hallinta näkyy selvästi Naborsin työssä. Laaja tyylikirjo on myös auttanut häntä toteuttamaan sävellysideoitaan.
Säveltä luonnehtii teostaan Pulse orkesteripartituuriin liitetyssä ohjelmaselostuksessa seuraavasti: "Teos sai alkunsa pohtiessani ihmisen jokapäiväistä elämää ja monimuotoista luontoa. Maailmankaikkeudessa tuntuu olevan oma luonnollinen rytminsä. On kuin jokainen elollinen olio – olemme siitä tietoisia tai emme – pysyisi koossa jonkin mystisen voiman ansiosta. Pulse on useista episodeista koostuva rapsodia, joka tutkiskelee erilaisia rytmin olomuotoja ja niiden muunnelmia. Kokonaisuutta pitää kasassa järkkymätön syke. Jokainen episodi pyrkii symbolisoimaan kuulijalle elämän eri skenaarioita, olivat se sitten sykkiviä moderneja suurkaupunkeja, erämaita villeine eläimineen tai pohjattomia valtameren syvänteitä. Nämä maailmat ja niiden filosofinen merkitys kootaan yhteen jousiston mietiskelevään "yhtenäisteemaan", joka symboloi syvää yhteyttämme kaikkeen, mikä meitä ympäröi joka puolelta." – Pulsen kantaesitti Nashville Symphony Orchestra Giancarlo Guerreron johdolla 9.9.2019 Nashvillessa.
Dmitri Šostakovitš: Sellokonsertto nro 2 op. 126
Šostakovitšin teosluettelon toiseksi viimeinen konsertto on peräisin hänen viimeiseltä vuosikymmeneltään. Pitkällä urallaan hän oli saanut kärsiä jo useita Neuvostoliiton hallintokoneiston hyökkäyksiä ja kurinpalautuksia ja tullut aina ennemmin tai myöhemmin rehabilitoiduksi. Šostakovitšin paluu viralliseen suosioon tapahtui hänen 60-vuotissyntymäpäiviensä yhteydessä. Syyskuun 25. päivänä 1966 hän sai myrskyisät aplodit astuessaan Moskovan konservatorion suureen saliin seuraamaan toisen sellokonserttonsa kantaesitystä. Tilaisuudessa jaetusta Neuvostoliiton valtionpalkinnosta ja julkisesta ylistyksestä huolimatta Šostakovitš ei tuntenut oloaan mukavaksi. Leonid Brezhnevin hallinnon myötä uudelleen kiristynyt kontrolli oli tehnyt lopun Stalinin jälkeisestä hruštševilaisesta suojasäästä.
Toisen sellokonserton säveltämisen aikoihin kansainvälinen maine oli jo vakaalla pohjalla. Samalla hänen terveydentilansa oli alkanut nopeasti heikentyä. Ankarana tupakkamiehenä tunnetun Šostakovitšin saama vakava sydänkohtaus ja sitä seurannut pitkä sairaalajakso hidastivat sävellystyötä merkittävästi. Toipilasaikansa Krimin Jaltalla Šostakovitš käytti sellokonserton kirjoittamiseen; työhön kului aikaa kuukauden verran. Emotionaalinen lataus hänen teoksissaan tihentyi tässä vaiheessa entisestään.
Tarkoituksena oli alun perin kirjoittaa teos vastikään edesmenneen runoilija Anna Ahmatovan muistolle. Kirjallisuuden Nobel-palkinnon saajaksi ehdolla ollut, odessalaissyntyinen Ahmatova oli kuollut maaliskuussa 1966. Lopullisessa teoksessa runoilijasta muistuttaa konserton toisen osan odessalainen katulaulu Bubliki, kupitye, bubliki ("ostakaa rinkeleitäni"). Toinen vahva inspiraation lähde lienee ollut Sergei Prokofjevin Sinfonia concertante sellolle ja orkesterille. Teos oli kenties Šostakovitšin mielessä hänen kirjoitettuaan ystävälleen Isaak Glikmanille: "Näyttäisi siltä, että toista konserttoani voisi kutsua 14. sinfoniakseni sellon soolo-osuudella." Sellotaiteilija Mstislav Rostropovitš oli molempien teosten innoittajana ja taustavaikuttajana ja vastasi myös niiden kantaesityksistä.
Pinnalta katsoen konsertto näyttäisi noudattavan perinteistä kolmiosaista kaavaa. Muotoarkkitehtuuri on kuitenkin sikäli epätavallinen, että laajahkot ääriosat vastaavat kestoltaan toisiaan ja finaaliin tauotta liittyvä keskiosa jää suppeaksi interludiksi. Normaaliin virtuoosikonserttoon kuuluva nopea avausosa on korvattu hiljaisella, hitaalla musiikilla, johon myös palataan konserton lopussa. Orkesterikokoonpano on mittava. Šostakovitš käyttää sen voimavaroja kuitenkin säästeliäästi. Vain muutamassa kohdassa voidaan puhua täydestä orkesteritutista.
Avausosa on intiimi, sisäänpäin kääntynyt Largo. Musiikki kasvaa vähitellen huipennukseen, ja sellokadenssi kehittelee avausteemaa bassorummun jysähdysten säestämänä. Osa päättyy alun tunnelmiin. Suppea keskiosa on täynnä vauhtia. Odessalaislaulu ja osan muu juutalaistyyppinen melodiikka ovat osoitus Šostakovitšin kiinnostuksesta niitä sävyttävään "väkinäiseen, katkeraan ja onttoon" iloon. Sitaattien takana saattaa olla myös Rostropovitšin ja säveltäjän keskinäinen inside joke. Finaalin avaavat käyrätorvifanfaarit. Musiikki etenee lyyrisen vaiheen kautta marssiin ja tanssilliseen taitteeseen. Teos sulkeutuu osan lopussa ensiosan pääteeman ja muutaman muun motiivin paluuseen.
William L. Dawson: African-American Folk Symphony
"Tarkoitukseni ei ollut matkia Beethovenia tai Brahmsia. Halusin sen sijaan tehdä selkeästi tiettäväksi, että tämä musiikki ei ole valkoisen miehen säveltämää." Näin kuvaili lähestymistapaansa William L. Dawson (1899 – 1990) African-American Folk Symphonystä puhuessaan. Inspiraatio tähän sinfoniaan löytyi perinteisistä afroamerikkalaisista spirituaaleista eli melodioista, joita hän oli kuunnellut kehdosta saakka. Dawson kutsui tätä sävelmistöä "mustien kansanmusiikiksi".
Dawson oli syntyisin Alabamasta, USA:n syvästä etelästä. Hän valmistui maisteriksi Chicagon American Conservatory of Music –musiikkikorkeakoulusta ja soitti ohessa pasuunaa kaupungin sinfoniaorkesterissa. Tuskegeen yliopiston opettajan virassa Alabamassa hän toimi 1931–1956 ja onnistui kohottamaan oppilaitoksen kuoron kansainväliselle tasolle. Säveltäjänä varhain aloittaneen Dawsonin tunnetuimmat ja eniten esitetyt teokset ovat lukuisat spirituaalisovitukset ja –muunnelmat sekä African-American Folk Symphony.
Sinfonian ensimmäiset luonnokset näkivät päivänvalon Tuskegeen yliopistovuosien alussa. Opinahjon maineikas kuoro sai kunnian esiintyä New Yorkin Radio City Music Hallissa peräti kuutena peräkkäisenä päivänä 1930-luvun alussa. Tämän vierailun yhteydessä Dawson tapasi maestro Leopold Stokowskin ja näytti hänelle sinfonian käsikirjoitusta. Stokowski ehdotti teokseen muutamia laajennuksia, ja tässä muodossa sinfonia sai kantaesityksensä 20.11.1934 New Yorkin Carnegie Hallissa. Stokowskin johtaman Philadelphia Orchestran esitys oli riemuvoitto: standing ovation, useita esiinkutsuja, ylistystä lehtikritiikeissä ja neljä ylimääräistä esitystä peräkkäisinä iltoina. Yksi konserteista lähetettiin suorana CBS:n valtakunnallisella radiokanavalla.
Kantaesityksen myötä orkesterisäveltäjän ura näytti olevan auki Dawsonille. Näin ei kuitenkaan käynyt. Ainoaksi jäänyt sinfoniakin ennätti kokea uudelleenmuokkauksia ennen kuin ensimmäinen levytys ilmestyi prässäämöstä 1963. Pitkän välivaiheen aikana Dawson oli vieraillut Länsi-Afrikassa 1950-luvulla ja poiminut sieltä teokseen alkuperäistä afrikkalaista rytmiikkaa. Syy viivästymiseen oli eräiden tutkijoiden mukaan amerikkalaisessa klassisen musiikin nokkimisjärjestyksessä, jonka puitteissa valkoiset vaikutusvaltaiset tahot systemaattisesti torjuivat mustan musiikin. Toinen, käytännöllisempi ongelma saattoi liittyä nuottimateriaaliin: partituuri oli olemassa vain käsikirjoituksena, ja myös orkesteristemmat olisivat kaivanneet runsaasti editointia.
Sinfonian ydin on keskimmäinen osa Hope in the Night. Afroamerikkalaisia spirituaaleja käyttövoimanaan hyödyntävässä teoksessa se on ainoa osa, joka ei suoraan perustu mustaan perinnemusiikkiin. Säveltäjä itse kertoi alun englannintorvimelodian kuvaavan auringossa paahtuvien, ruoskalla kuritettujen ihmisten loputonta raatamista orjuudessa. Teema palaa vielä osan lopussa täydellä orkesterilla dramaattisella teholla.
African-American Folk Symphonyn perussointi on tuttua, täyteläisesti soivaa kypsää romantiikkaa. Musiikillisen materiaalin – eli tässä tapauksessa spirituaalien – käyttö on erittäin taidokasta varioinnin ja kehittelyn suhteen, jolloin syntyy vaikutelma pakottomista, tematiikan pohjalta spontaanisti syntyneistä muodoista. Emotionaalinen lataus on kautta linjan vahva, kuten osien kuvailevat otsikot antavat ymmärtää. Laulumelodioita ei pelkästään siteerata sinällään, vaan ne ja niistä kehitellyt motiivit on taitavasti ommeltu sisään orkesterikudokseen. Osat muodostavat kiinteitä kokonaisuuksia, ja lopputulos on "mustan folkin" ja sinfonian onnistunut kombinaatio Dvořakin ja hieman myös Gershwinin hengessä.
Teosesittelyt: Pekka Miettinen
Chineke! Orchestra
Kevin-John Edusei kapellimestari / conductor
Sheku Kanneh-Mason sello / cello
1. VIULU / VIOLIN 1
Kelly Hall-Tompkins
Ronald Long
Soong Choo
Betania Johnny
Sydney Mariano
Sasha Scott
Tom Bott
Sarah Martin
Laure Chan
Robert Miller
Alfredo Reyes Logounova
Raye Harvey
Blaize Henry
Helena Logah
2. VIULU / VIOLIN 2
Aischa Guendisch
Steven Crichlow
Sofía Roldán Cativa
Nuno Carapina
Jacob Reina Caro
Shona Beecham
Kourosh Ahmadi
Kanyinsola Tomilola
Annmarie McDade
Aanu Sodipe
Daniel Jung
Angela Antwi-Agyei
ALTTOVIULU / VIOLA
Lena Fankhauser
Mira Glenn Williams
Natalia Senior-Brown
Deanna Said
Nikki Hicks
Betelihem Hadgu
Jesse Francis
Adyr Francisco
Adam Gibbs
Natalia Soles-Paredes
SELLO / CELLO
Desmond Neysmith
Jakob Nierenz
David Kadumukasa
Meera Raja
Elliott Bailey
Danushka Edirisinghe
Josie Campbel
Ruben Jeyasundaram
KONTRABASSO / DOUBLE BASS
Chi-chi Nwanoku CBE
Charles Campbell-Pee
Victor Ray Holmes
Thea Sayer
Fabián Galeana
Marcus de Oliviera
HUILU / FLUTE
Ebonee Thomas
Meera Maharaj
Thaddeus Watson (doubling piccolo)
OBOE
Nermis Mieses
Lorraine Hart
Banita Wheatley-Holmes
KLARINETTI / CLARINET
Mariam Adam
Berginald Rash
Benjamin Pinto (doubling bass)
Anton Clarke-Butler (doubling e flat clarinet)
FAGOTTI / BASSOON
Joshua Elmore
Linton Stephens
Gordon Laing (double contra)
KÄYRÄTORVI / HORN
Pierre Buizer
Jonathan Hassan
Derryck Nasib
Francisco Gomez
TRUMPETTI / TRUMPET
Atse Theodros
Gabriel Dias
Harry Plant
PASUUNA / TROMBONE
David Cox
Simon Chorley
Michaias Berlouis (bass trombone)
TUUBA / TUBA
Stephen Calow
LYÖMÄSOITTIMET / PERCUSSION
Sacha Johnson
Raynor Carroll
Toril Azzalini-Machecler
HARPPU / HARP
Ruby Aspinall
Elizabeth Steiner
PIANO/CELESTA/CELESTE
William Campbell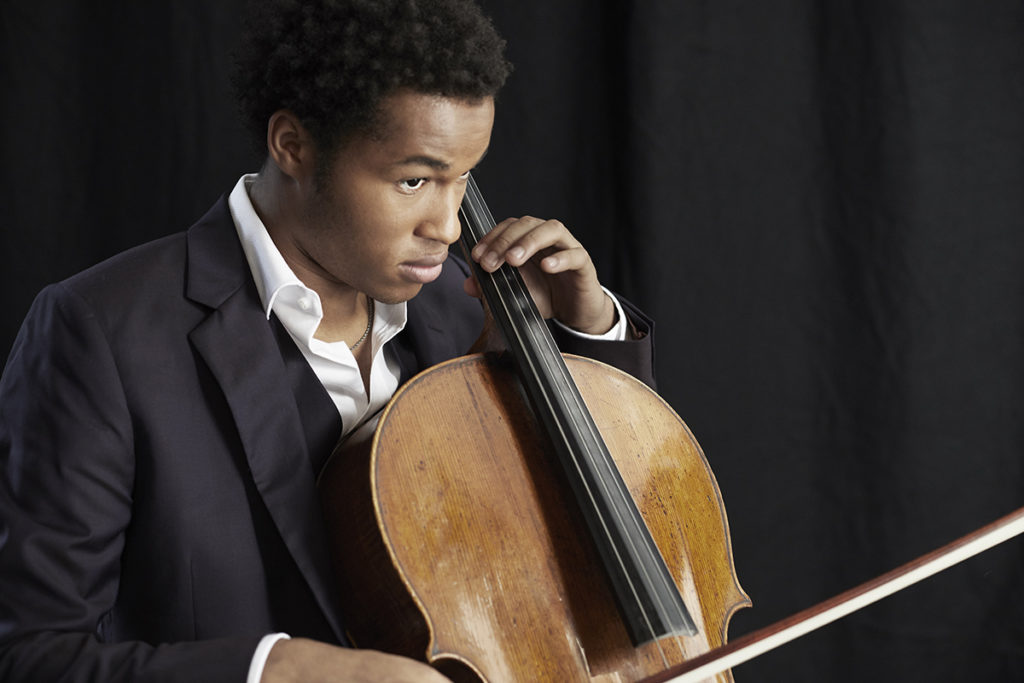 Brian Raphael Nabors: Pulse
The music of Brian Raphael Nabors, a composer born in Birmingham, Alabama in 1991, draws on jazz, funk, rhythm & blues and gospel, with the additional colour of contemporary classical. The traditions of the US Deep South, headed maybe by spirituality, are his chief sources of inspiration. Many of his works address the question of humanity and the nature between humankind and nature, and, he says, music occupies an important role in the debate about social issues such as prejudice, racism and bigotry.
As a pianist, Nabors is proficient in many styles, as a church musician, keyboardist, a member of a R&B/neo-soul band and a classical artist. Having a hand in several genres plays a large role in the type of sound spaces he creates. It has also broadened his creative/technical facility in realising his compositional ideas.
Nabors writes in a programme note attached to the orchestral score of Pulse: "My conception of Pulse began as a long contemplation of daily life as we know it, combined with thoughts of life in nature. The universe seems to have this natural rhythm to it. It is as if every living and moving thing we are aware and unaware of is being held together by a mysterious, resolute force. Pulse is an episodic rhapsody that explores several phases and colorful variants of rhythm all held together by an unwavering pulse. Each episode is meant to symbolize a different scenario of life for the listener, be it a buzzing modern metropolis, a deep wilderness abundant with animalia, or the scenic endless abyss of the ocean. All of these worlds and their philosophical meanings are then brought together in a contemplative theme of 'unification' in the strings that symbolizes our deep connection as living beings to everything within, over, under, and around us."
​Pulse was first performed in Nashville by the Nashville Symphony Orchestra conducted by Giancarlo Guerrero on 9.9.2019.
Dmitri Shostakovich: Cello Concerto No. 2, Op. 126
The next-to-last concerto by Dmitri Shostakovich dates from the final decade of his life. He had, in the course of his long career, already suffered several attacks and disciplinary measures by the Soviet regime and sooner or later had always become rehabilitated. His return to official favour came in conjunction with his 60th birthday. On 25 September 1966, he was met by a storm of applause on entering the great hall of the Moscow Conservatory to hear the premiere performance of his second cello concerto. Despite the USSR State Prize awarded to him on the occasion and the public approbation showered upon him, he did not feel good. The tighter control once again imposed by Leonid Brezhnev had put an end to Khrushchev's post-Stalinist thaw.
By the time he composed his second cello concerto, Shostakovich had won himself a solid international reputation. His health was, however, fast failing. A heavy smoker, he had suffered a major heart attack, and the long ensuing period in hospital was a considerable impediment to composing. He spent the time convalescing at Yalta in the Crimea writing his cello concerto; it took him about a month. The emotional charge in his works became all the more intense at this stage.
Shostakovich originally intended to write a work in memory of Nobel Prize nominee Anna Akhmatova, who had died in March 1966. The poetess was born in Odessa and she is remembered in the second movement of the concerto in the Odessa street song Bubliki, kupitye, bubliki (Bagels, buy my bagels). Another major source of inspiration was possibly the Sinfonia concertante for cello and orchestra by Sergei Prokofiev. Shostakovich may have had this in mind when, in a letter to his friend Isaak Glikman, he said of the concerto: "It could also have been named the Fourteenth Symphony with a solo cello part." The soloist in the premiere performance was Mstislav Rostropovich, the cellist who had inspired and encouraged both works.
The concerto would appear on the surface to be cast in the traditional three-movement mould. The architecture is nevertheless unusual in that the fairly big outer movements are roughly the same length and the middle movement, leading without a break to the finale, is just a brief interlude. Instead of a quick opening movement typical of a virtuoso concerto, Shostakovich wrote a slow, quiet one, and returned to it at the end of the work. The concerto is scored for a sizeable orchestra, though Shostakovich makes sparing use of its resources. Only at a few points is it possible to speak of a full orchestral tutti.
The opening movement is an intimate, introverted Largo. The music gradually builds up to a climax, and a cello cadenza develops the opening theme to the accompaniment of thuds on the bass drum. The movement ends in the same mood as the beginning. The brief middle movement is full of zest. The Odessa song, and the movement's other Jewish-sounding melodies are an indication of Shostakovich's interest in their "bitter, forced, hollow joy". The quotations may have been an inside joke he shared with Rostropovich. The finale is heralded in by French horn fanfares and proceeds via a lyrical episode to a march and a dance-like section. The concerto comes full circle with the return of the main theme of the first movement and a few other motifs.
William L. Dawson: African-American Folk Symphony
"I wasn't out to imitate Beethoven or Brahms, but wanted those who heard it to know that it was 'unmistakably not the work of a white man," said William L. Dawson (1899–1990) in speaking of his African-American Folk Symphony. He was inspired to write it by the traditional Afro-American spirituals or melodies he had "heard at his mother's knee" and which he liked to call "African-American folk music".
Dawson was born in Alabama, USA, in the "deep south", and began composing at an early age. He was a graduate of the American Conservatory of Music Chicago and played the trombone in the city's symphony orchestra. From 1931 to 1956 he taught at the Tuskegee Institute in Alabama and succeeded in raising its choir to international heights. His best-known and most performed works are his numerous spiritual arrangements and variations, and the African-American Folk Symphony.
The first sketches for the symphony saw the light of day during Dawson's early Tuskegee years. The celebrated choir had the honour of performing at New York's Radio City Music Hall in six consecutive years in the early 1930s. It was there that Dawson met Maestro Leopold Stokowski and showed him the manuscript of his symphony. Stokowski a made a few suggestions for parts that could be enlarged and it was premiered in this form at Carnegie Hall, New York on 20.11.1934. The performance by the Philadelphia Orchestra conducted by Stokowski was a resounding success. It got a standing ovation, rave reviews in the press, and four extra performances on consecutive evenings. One of the concerts was broadcast live on the national CBS radio channel.
Following the success of the premiere, a career as an orchestral composer seemed to lie ahead for Watson. But that was not to be. It remained his only symphony and underwent several revisions before the first recording came off the press in 1963. During the long interim, Dawson had visited West Africa in the 1950s and there gathered authentic African rhythms for use in the work. The reason for the delay was, according to certain researchers, the pecking order in American classical music that meant that influential white circles systematically rejected African-American music. Another, more practical problem may have been the absence of printed parts; the score existed only in manuscript form, and the orchestral parts cried out for extensive editing.
The symphony's core is the middle movement, Hope in the Night. In a work driven by Afro-American spirituals, it is the only movement not directly founded on African-American folk music. Dawson described the cor anglais melody at the beginning as describing the humdrum life of a people whose bodies were baked by the sun and lashed with the whip in endless slavery. The theme returns with dramatic force on the full orchestra at the end of the movement.
The tone of the African-American Folk Symphony is basically familiar, lush, mellow Romanticism. Dawson varies and develops his musical material – in this case spirituals – with the greatest skill, thereby creating an impression of effortless, spontaneous forms. The emotional charge is strong throughout, as the titles of the movements suggest. The spiritual melodies are not just quoted as such; rather, the tunes and the motifs derived from them are cleverly sewn into the orchestral weave. The movements are compact entities, and the result is a successful combination in the spirit of Dvořák with a touch of Gershwin.
Texts: Pekka Miettinen
Translation: Susan Sinisalo
Yhteistyössä / In Co-operation:
Jane ja Aatos Erkon säätiö