Taylor Mac
A 24-Decade History of Popular Music
TAYLOR MAC
A 24-DECADE HISTORY OF POPULAR MUSIC
Conceived, written and directed by TAYLOR MAC
Music Director / Arranger MATT RAY
Costume Designer MACHINE DAZZLE
THE TAYLOR MAC BAND
Taylor Mac, Vocals
Matt Ray, Piano
Bernice "Boom Boom" Brooks, Drums
Viva DeConcini, Guitar
Greg Glassman, Trumpet
Marika Hughes, Cello
Dana Lyn, Violin
Gary Wang, Bass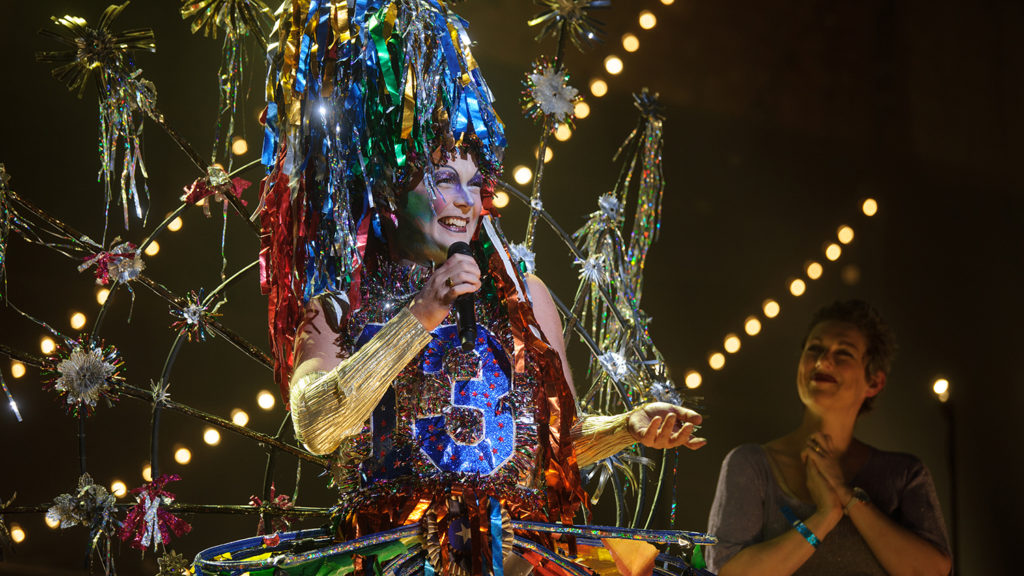 A 24-DECADE HISTORY OF POPULAR MUSIC was commissioned in part by ASU Gammage at Arizona State University; Belfast International Arts Festival and 14 – 18 NOW WW1 Centenary Art Commissions; Carole Shorenstein Hays, The Curran SF; Carolina Performing Arts, at the University of North Carolina at Chapel Hill; Center for the Art of Performance at UCLA; Hancher Auditorium at the University of Iowa; Lincoln Center for the Performing Arts; Melbourne Festival; Museum of Contemporary Art Chicago; International Festival of Arts & Ideas (New Haven); New York Live Arts; OZ Arts Nashville; Stanford Live at Stanford University; University Musical Society of the University of Michigan.
This work was developed with the support of the Park Avenue Armory residency program, MASS MoCa (Massachusetts Museum of Contemporary Art), New York Stage and Film & Vassar's Powerhouse Theater, and the 2015 Sundance Institute Theatre Lab at the Sundance Resort with continuing post-lab dramaturgical support through its initiative with the Andrew W. Mellon Foundation.
A 24-DECADE HISTORY OF POPULAR MUSIC was made possible with funding by the New England Foundation for the Arts' National Theater Project, with lead funding from The Andrew W. Mellon Foundation
PRODUCTION TEAM:
Linda Brumbach, Creative & Executive Producer
Alisa E. Regas, Creative & Executive Producer
Jeremy Lydic, Director of Production
Rachel Katwan, General Manager
Jason Kaiser, Stage Manager
Willa Ellafair Folmar, Company Manager
Paul Frydrychowski, Lighting Design
Jimin Brelsford, Audio Engineer
Valerie Abbey, Monitor Mix
TAYLOR MAC
Taylor Mac is the first American to receive the International Ibsen Award, is a MacArthur Fellow, a Pulitzer Prize Finalist, a Tony nominee for Best Play, and the recipient of the Kennedy Prize (with Matt Ray), the Doris Duke Performing Artist Award, a Guggenheim, the Herb Alpert Award, a Drama League Award, the Helen Merrill Playwriting Award, the Booth, two Helpmann Awards, a NY Drama Critics Circle Award, two Obie's, two Bessies, and an Ethyl Eichelberger. An alumnus of New Dramatists, judy is the author of The Hang (with composer Matt Ray); Gary: A Sequel to Titus Andronicus; A 24-Decade History of Popular Music; Prosperous Fools; The Fre; Hir; The Walk Across America for Mother Earth; The Lily's Revenge; The Young Ladies Of; Red Tide Blooming; The Be(A)st of Taylor Mac; and the revues Comparison is Violence; Holiday Sauce; and The Last Two People on Earth: an Apocalyptic Vaudeville(created with Mandy Patinkin and Susan Stroman).
MATT RAY (Music Director, Arranger, Piano)
Matt Ray is a Brooklyn-based pianist, singer, songwriter, arranger, and music director. For his work on Taylor Mac's show A 24-Decade History of Popular Music he and Mac shared the 2017 Kennedy Prize for Drama Inspired By American History. He and Mac's jazz-based theater piece The Hang opened to rave reviews in January of 2022 and received 2 Drama League nominations. His show Matt Ray Plays Hoagy Carmichael featuring Kat Edmonson premiered at Lincoln Center's American Songbook series in 2018. Notable live performances include Carnegie Hall with Kat Edmonson, the Hollywood Bowl with reggae legend Burning Spear, the Théâtre de Chaillot with Justin Vivian Bond, Lincoln Center with Joey Arias, and touring the Caribbean and Central America as a US Department of State Jazz Ambassador. Other work includes music directing Queen Esther's The Billie Holiday Project at the Apollo Theater's Music Cafe in Harlem, doing arrangements for the hit HBO show Somebody Somewhere, music directing Taylor Mac's Obie award winning play The Lily's Revenge at the HERE Arts Center in New York, and co-writing songs for and performing in Bridget Everett's one-hour Comedy Central special Gynecological Wonder as well as Everett's hit cabaret show Rock Bottom. Matt has released two jazz albums as a leader: We Got It! (2001) and Lost In New York (2006); and one album of original pop/folk material called Songs For the Anonymous (2013).
MACHINE DAZZLE (Costume Designer)
Matthew Flower, aka Machine Dazzle, has been living and working in New York City since 1994. An artist, costume designer, set designer, singer/songwriter, art director, maker, and all-around creative, Dazzle has worked with many from the New York downtown scene and beyond, including Diane Von Furstenberg, Cara Delevingne, Godfrey Reggio, Justin Vivian Bond, Taylor Mac, Basil Twist, Julie Atlas Muz, Jennifer Miller, The Dazzle Dancers, Big Art Group, Mike Albo, Stanley Love, Soomi Kim, Opera Philadelphia, Pig Iron Theatre, the Bearded Ladies Cabaret, Spiegelworld, The Curran Theatre, and more. He is a 2022 United States Artists Fellow. With Taylor Mac, Machine has collaborated on several projects including The Lily's Revenge (2009), Walk Across America For Mother Earth (2012) and the Pulitzer Prize-Nominated A 24-Decade History of Popular Music (2016-Present). Conceptualist-as-artist meets DIY meets "glitter rhymes with litter," Machine was a co-recipient the 2017 Bessie Award for Outstanding Visual Design and the winner of a 2017 Henry Hewes Design Award. He describes himself as a radical queer emotionally driven, instinct-based concept artist and thinker. In 2019 Machine was commissioned by Guggenheim Works and Process and The Rockefeller Brothers to create Treasure, a rock and roll cabaret of original songs including a fashion show inspired by the content. The songs from Treasure have been recorded and the album will be available summer 2022. Machine Dazzle is currently preparing for his first solo exhibition to be held at the Museum of Art and Design in NYC opening in September 2022.
VALERIE ABBEY (Monitor Mix)
Valerie Abbey is an American audio engineer, musician, and singer of the goth industrial band Abbey Death from Brooklyn, New York. Valerie met up with Taylor Mac and the Pomargrante Arts team in 2021 for the limited showing of "Holiday Sauce" at superstar rock club White Eagle Hall in Jersey City USA as their monitor engineer. Currently, Valerie is doing monitors for this very show you are about to / or have already enjoyed!
BERNICE "BOOM BOOM" BROOKS (Drums)
Bernice Brooks is a drummer, television producer and teaching artist. She is without a doubt one of the most versatile female drummers locally, nationally and internationally. After studying at the Conservatory of music in Chicago and with various teachers and mentors, she went on to hone her skills in various venues with different musical directors, leaders, bands and groups from all over the planet. For the past 20 years, she has produced her television program, "The Bernice Brooks Show" on bricartsmedia.org. In addition, she has been seen and heard in many commercials, theatre productions and recordings. Brooks has opened for and collaborated with countless performers including Shelia E, The O'Jays, Ray Charles, Tito Puente, Bill Withers, Elvis Costello, Joanne Brackeen, Etta James, Gregory Hines, Savion Glover and so many other greats from the Gospel, Jazz, Blues and R&B communities. For the past four years, she has had the joy of touring with Pulitzer Prize Nominee and MacArthur Genius Grant recipient, Taylor Mac.
JIMIN BRELSFORD (Audio Engineer)
Jimin Brelsford is an audio engineer based out of Brooklyn, NY. Educated at New York University, his career has encompassed a wide range of productions types, domestic and international, in both seasonal and project-based capacities. After an internship at the Williamstown Theatre Festival, Jimin began working as an engineer and designer for various performing arts organizations, including touring projects for Miguel Gutierrez and The Powerful People, Kneehigh, and Young Jean Lee's Theater Company. Event work has included clients such as the Tribeca Film Festival, the United Nations, and YouTube. He has also served as a resident monitor engineer and system technician for the Celebrate Brooklyn! music festival. Currently the sound and video supervisor for St. Ann's Warehouse, he has provided production audio support for multiple local, domestic, and international projects, including the development of Taylor Mac's A 24-Decade History of Popular Music.
VIVA DECONCINI (Guitar)
Viva DeConcini plays guitar like a flaming sword, screaming train, ringing bell and a scratching chicken, she sings like if Freddy Mercury had been a woman and she writes songs eclectically. Viva has played all over the world, from holes in the wall to the Monterey Jazz Fest. She has written and produced 4 full length rock albums, 4 original music videos, a 10 episode podcast and a poetry video for the Guggenheim's Works and Process. She musically directed works at the Guggenheim Theater and The WP. Her work has charted on CMJ, been featured in No Depression Magazine and she is one of the few females to be profiled in Guitar Player Magazine. She is currently working on an original webseries queer feminist spaghetti western operetta with sock puppets. "Crushable" – Art Forum, "Virtuosic guitar shredding" – The New York Times, "A beautiful voice" – KUNM
IG: @vivadeconcini
WILLA ELLAFAIR FOLMAR (Company Manager)
Willa Ellafair Folmar has been making plays for 23 years. Sometimes she's in them, creates things for them, writes them, makes sure everyone on the tour stays alive and in good spirits, or collaborates on ideas and shapes them into something tangible. Willa takes photos, another form of theatre in two-dimensional form. She studied Political Communication and Theatre at Davidson and Emerson Colleges. She's been an Ambassador for the BSO, Dramaturgical Costume Assistant on Showtime/Fox21's Homeland, and a teaching artist for Writers Without Margins, a non-profit engaging with incarcerated and systemically persecuted individuals in Boston. Her professor, the visionary P. Carl, introduced Willa to Taylor Mac and Pomegranate Arts; Since 2016, Willa's worked extensively on Mac's A 24-Decade History of Popular Music and Holiday Sauce, which has taken the company to The Melbourne Festival, Montclair Film Festival, CAP UCLA, Berliner Festspiele, The Curran SF, and everywhere in between. Through Pom, Willa's also worked on projects with artists including Philip Glass and Bassem Youssef. She's worked on shows for Under the Radar, The Onassis Festival, and LaMama. Willa's a partner at Looking Glass Arts, an artist-lead creative residency center in upstate NY democratizing access to the space, time and natural beauty critical to artistic growth and practice.
PAUL FRYDRYCHOWSKI (Lighting Design)
Paul Fydrychowski (Asst. Electrician/Programmer) is very excited to join the company of Einstein on the Beach for this tour. A founding member and Executive Director of Forum Theatre in Washington, DC; Paul is also the Lighting Supervisor for Les Ballets Trockadero de Monte Carlo and an active freelance designer and technician.
GREG GLASSMAN (Trumpet)
Greg Glassman was born in Queens, NY. A protégé of Marcus Belgrave, Clark Terry, Greg teaches, composes, and is a staple of the New York City jazz scene as a trumpet soloist, improviser and bandleader. He regularly is featured in groups led by David Schnitter, Oliver Lake, Saul Rubin, John Esposito, Frank Lacy and others. His live band's multi-decade NYC residency is documented in his most recent recording, Greg Glassman/Stacy Dillard Quintet, LIVE AT FAT CAT. He has seen the world on tour with artists including Burning Spear, Oscar Perez, Roswell Rudd, The Skatalites, and 2017 MacArthur Fellowship recipient, Taylor Mac. He holds degrees in Jazz and African-American Music from Oberlin College and Queens College, and has been an adjunct faculty at Bard College since 2011. Recently, he arranged octogenarian gospel queen, Rene Bailey's, "Good Old Songs", and his composition for solo piano, "Partita for Elena", was at the heart of 2020 Tribeca Film Festival Official Selection, Outside Story. He resides with his family in Brooklyn, NY.
MARIKA HUGHES (Cello)
Marika Hughes is a native New Yorker, a cellist, a singer, a songwriter and has been a storyteller on The Moth Radio Hour. From a musical family, Marika's grandfather was the great cellist Emanuel Feuermann and her parents owned a jazz club, Burgundy in their NYC neighborhood. Marika has a double degree from Barnard College and the Juilliard School, graduating with BAs in political science and cello performance, respectively. Marika has worked with Whitney Houston, Lou Reed, Anthony Braxton, David Byrne, Adele, D'Angelo, Idina Menzel, Nels Cline and Henry Threadgill among others. Marika has self-released three albums: The Simplest Thing (2011), Afterlife Music Radio (2011) and New York Nostalgia (2016). She is the founder of Looking Glass Arts, an artist-led, artist residency retreat and recording studio in upstate New York, committed to prioritizing BIPOC artists and a sliding scale fee structure, democratizing access to the space, time and natural beauty critical to artistic growth.
JASON KAISER (Stage Manager)
Jason Kaiser's stage management credits include: Only An Octave Apart (St. Ann's Warehouse, NY Philharmonic); Kiki and Herb SLEIGH (BAM); Social! the social distance dance club, and Party in the Bardo (both at the Park Avenue Armory); the Tony Award-winning revival of Oklahoma! (Broadway, St. Ann's Warehouse); A 24-Decade History of Popular Music with Taylor Mac (St. Ann's Warehouse, tour); Taylor Mac's Holiday Sauce; Available Light with Lucinda Childs Dance Company; the opera premieres of Book of Mountains and Seas, Acquanetta, The Source, anatomy theater, and love fail (all produced by Beth Morrison Projects); the world tour of the Olivier Award-winning revival of Einstein on the Beach; Nonesuch Records at BAM with Steve Reich and Philip Glass; three world-premiere plays by Athol Fugard; two European tours of Jesus Christ Superstar directed and choreographed by Baayork Lee; and 13 world premieres with Jennifer Muller/The Works dance company.
DANA LYN (Violin)
Dana Lyn is a violinist/fiddler, pianist and composer; collaborators include Stew and Heidi Rodewald, Ethan Hawke, Vincent D'Onofrio, avant-cellist Hank Roberts, D'Angelo, and poet Louis de Paor. She has received commissions from Brooklyn Rider, A Far Cry, Palaver Strings, and the Apple Hill String Quartet. Her projects include the sextet Mother Octopus, a collaboration with D'Onofrio called Slim Bone Head Volt, and a duo with guitarist Kyle Sanna. She was an artist-in-residence at the Baryshnikov Arts Center in 2017, an awardee of the 2018 ACF Create Commission, a recipient of the 2020 NYFA Women's Fund Award, and a 2021 Sundance Composer Lab Fellow. Also a visual artist, Dana has made stop-motion animations for Taylor Mac and jazz musician Ben Goldberg as well as for her own projects. In 2022, she released her eighth album, "A Point on a Slow Curve", via In-a-Circle Records. Dana is also a well-versed fiddle player in the Irish tradition.
GARY WANG (Bass)
Bassist and multi-instrumentalist Gary Wang has been playing professionally in New York City for over 25 years, performing, touring and recording with a diverse array of artists including Anat Fort, Taylor Mac, Ben Monder, Ed Cherry, Michael Leonhart, Madeleine Peyroux, and T.S. Monk, Matt Ray and Dana Lyn among many others. Gary's side solo project Shapes On Parade has released two albums on Bandcamp. He also is a member of the San Francisco-based band The Invisible Cities, and has also contributed production and overdubbing work to projects by Michael Leonhart, Sam Sadigursky, Goh Nakamura and choreographer Kakuti Lin with the Full Circle Dance Company.
POMEGRANATE ARTS (Creative and Executive Producers)
For over twenty years, Pomegranate Arts has worked in close collaboration with a small group of contemporary artists and arts institutions to bring bold and ambitious artistic ideas to fruition. Founder and Director Linda Brumbach, along with Managing Director Alisa E. Regas produced the Olivier Award-winning revival of Einstein on the Beach, the multi-award winning production of Taylor Mac's A 24-Decade History of Popular Music, Robin Frohardt's The Plastic Bag Store, and the Drama Desk Award winning production of Charlie Victor Romeo. Since its inception, Pomegranate Arts has produced over 30 major new performing arts productions and tours for Philip Glass, Laurie Anderson, Lucinda Childs, Dan Zanes, London's Improbable, Sankai Juku, Batsheva, and Bassem Youssef and collaborated on new productions with the Kronos Quartet, Leonard Cohen, Robert Wilson, and Frank Gehry. We hope to continue to build our community of institutions and individuals that are inspired by the artists in our lives that help bring beauty and truth into the world, ask important questions, and take bold risks. pomegranatearts.com