Wayne McGregor, Olafur Eliasson & Jamie xx:
Tree of Codes
WAYNE McGREGOR Director and choreographer
OLAFUR ELIASSON Visual concept
JAMIE XX Composer
Inspired by Tree of Codes by JONATHAN SAFRAN FOER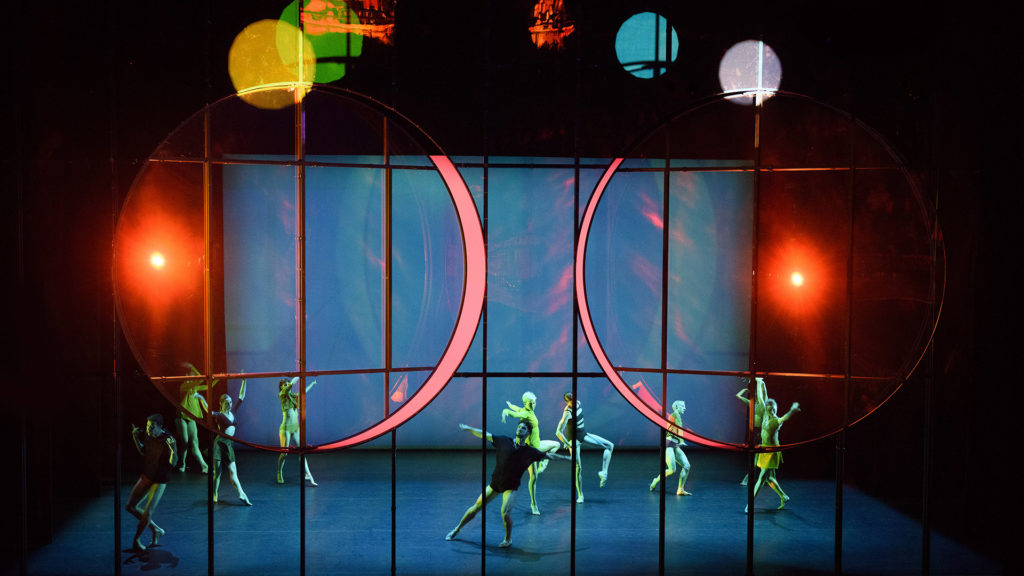 Tree of Codes crew:
James Leaver, Production Manager
Robert Halliday, Lighting Realisation
John Delaney, Production LX
Nicolas Sagar, Sound Designer
David Wrench, Surround Sound Mixer
Daniel Steele, Sound Engineer
Craig Emerson, Production Carpenter
Martin Riley, Master Carpenter
Janine Bardsley, Company Stage Manager
Emma Frith, Deputy Stage Manager
Finlay Forbes Gower, Wardrobe Supervisor
Dawn Prentice, Producer
Studio Wayne McGregor:
Odette Hughes, Rehearsal Director
Alvaro Dule, Dancer
Eileih Muir, Dancer
Jordan Bridge, Dancer
Rebecca Graham, Dancer
Simone De Salvatore, Dancer
Melissa Hamilton, Dancer
Kym Alexander, Dancer
Leticia Dias Domingues, Dancer
Chien Shun Liao, Dancer
Rawinan Asawakanjanakit, Dancer
James Pett, Dancer
Mattia Sala, Dancer
Commissioned by Manchester International Festival, Park Avenue Armory, FAENA ART, Paris Opera Ballet, Sadler's Wells and European Capital of Culture Aarhus 2017. Produced by Manchester International Festival, Paris Opera Ballet and Studio Wayne McGregor.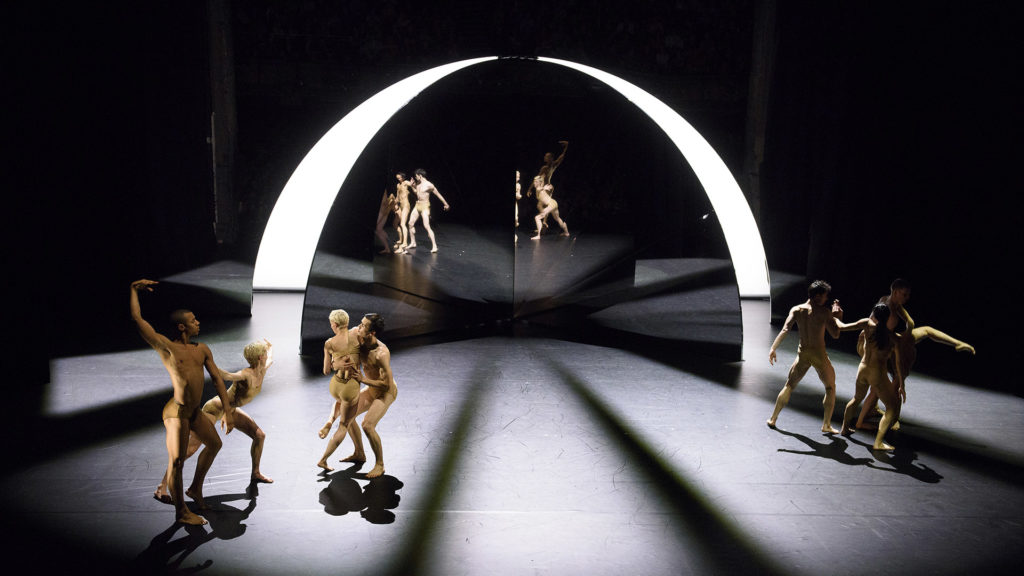 Music Credits:
Music by JAMIE XX
Mixed by DAVID WRENCH at Strongroom Studios, London
Contains samples taken from
"I Don't Think Much About Her No More", Written by Mickey Newbury, Published by Sony/ATV.
From the album "Looks Like Rain", as featured on the box set "An American Trilogy", released by Saint Cecilia Knows/Mountain Retreat.
"Say Your Prayers", Written by Patrick Cassidy courtesy of C Patrick Cassidy, Bucks Music Group Ltd (PRS)
"So Much In Love", Written by Roy Straigis, Billy Jackson, George Williams, Published by ABKCO Music, Inc.(BMI)
Performed by The Persuasions. Courtesy of Capitol Records, LLC, under license from Universal Music Enterprises. Used by permission. All rights reserved.
Thank you to Okay Kaya and Iskra Strings.
Additional thanks to:
Alluvial Leichtspiegel GmbH
ShowTex
Scott Fleary Productions Ltd
Soundmoves
Howard Eaton Lighting Ltd
Anna Gerber and Britt Iverson at Visual Editions
Caius Pawson & Simon Guzylack at Young
Artist Bios:
Wayne McGregor CBE is a British choreographer and director. He is Artistic Director of Studio Wayne McGregor, a creative nexus that pushes the frontiers of physical intelligence through dance, design and technology. Wayne's work is rooted in dance, yet encompasses a variety of genres including technology, visual art, film, opera and education, as well as Company Wayne McGregor, his own touring company of dancers.
Studio Wayne McGregor supports an eclectic network of creators, including – but not limited to – dancers, writers, composers, coders, scientists and software engineers. The space is based at Here East in Queen Elizabeth Olympic Park, and is designed to spark creativity, expression and making.

Wayne McGregor is Resident Choreographer at The Royal Ballet, where his productions reconfigure the classical language, and from 2021, will be the Director of Dance for the Venice Biennale until 2024. He is Professor of Choreography at Trinity Laban Conservatoire of Music and Dance and has Honorary Doctorates from Plymouth University, University of Leeds, University of Chester, and UAL. In 2017 he was awarded an Honorary Fellowship of the British Science Association.
McGregor has works in the repertories of ballet companies around the world, including Paris Opera Ballet, Alvin Ailey, New York City Ballet, Bolshoi Ballet, Royal Danish Ballet and San Francisco Ballet. He has choreographed for theatre, opera, film (Harry Potter, Sing, Mary Queen of Scots, Fantastic Beasts film series), music videos (Radiohead, The Chemical Brothers), fashion (Soma for COS, Gareth Pugh at London and Paris Fashion Week, Nick Knight for SHOWstudio), campaigns (Selfridges, Boots No 7) and TV (Brit Awards, 2015 and 2016).
He has been awarded four Critics' Circle National Dance Awards, two Time Out Awards, two South Bank Show Awards, two Olivier Awards, a prix Benois de la Danse and two Golden Mask Awards. In 2011, McGregor was awarded a CBE for Services to Dance and in 2021 was honoured with a Lifetime Achievement Award at the Prix de Lausanne.
Icelandic-Danish artist Olafur Eliasson (b. 1967) works with sculpture, painting, photography, film, installation, and digital media. His art is driven by his interests in perception, movement, embodied experience, and feelings of self and community. Not limited to the confines of the museum and gallery, his practice engages the public through architectural projects, interventions in civic space, arts education, policy-making, and climate action.
Since 1997, his wide-ranging solo shows have appeared in major museums around the globe. He represented Denmark at the 50th Venice Biennale in 2003 and later that year installed The weather project, an enormous artificial sun shrouded by mist, in the Turbine Hall of Tate Modern, London, which was seen by more than two million people. In 2014, Contact was the opening exhibition of Fondation Louis Vuitton, Paris. Verklighetsmaskiner (Reality machines), at the Moderna Museet in Stockholm in 2015, became the museum's most visited show by a living artist. In 2016, Eliasson created a series of interventions for the palace and gardens of Versailles and mounted two large-scale exhibitions: Nothingness is not nothing at all, at Long Museum, Shanghai, and The parliament of possibilities, at Leeum, Samsung Museum of Art, Seoul. Eliasson's site-specific installation Reality projector opened at the Marciano Foundation, Los Angeles, in March 2018, the same month as The unspeakable openness of things, his solo exhibition at Red Brick Art Museum, Beijing. In 2019, In real life, a wide-ranging survey exhibition of Eliasson's artistic practice over the past twenty-five years, opened at Tate Modern, in London, before travelling to Guggenheim Bilbao in 2020. Olafur Eliasson: Symbiotic seeing opened at Kunsthaus Zürich in January 2020, and Sometimes the river is the bridge was shown at the Museum of Contemporary Art Tokyo from April to September 2020. For the exhibition Life, in 2021, Eliasson removed the glass facade of the Fondation Beyeler, in Basel, Switzerland, and conducted the bright green waters of the existing pond into the museum's galleries, along with a host of aquatic plants and the odd duck or spider.
Located in Berlin, Studio Olafur Eliasson comprises a large team of craftsmen, architects, archivists, researchers, administrators, cooks, art historians, and specialised technicians.
Jamie Smith (born 28 October 1988), better known by his stage name Jamie xx, is an English music producer, remix artist and DJ who is known both as a solo act and as a member of the London-based band The xx. He has been recognised with a 2016 Grammy Award nomination in the Best Dance/Electronic Album category for his album In Colour. In 2007, Smith joined The xx accompanying old school friends Romy Madley Croft, Oliver Sim, Baria Qureshi from the Elliott School, notable for alumni including Hot Chip, Burial and Four Tet. The band's first album 'xx' was released in August 2009 and went on to become platinum in the UK.
Jamie went on to produce a series of remixes of songs by Gil Scott-Heron from his 2010 album I'm New Here. The first remix single 'NY Is Killing Me', credited to Gil Scott-Heron and Jamie xx, aired on radio stations across the UK and Europe in late 2010, followed by 'I'll Take Care Of U' in January 2011. Both singles drew a lot of attention by the public and critics and set the way for a 13-track remix album entitled 'We're New Here', out February 21, 2011 on the XL Recordings label and produced entirely by Jamie xx. 'We're New Here' received very positive critical acclaim and was named "a masterpiece in its own right" by BBC's Ele Beattie.
Images: Joel Chester Fildes