Updated Huvila expands to become a festival park open to the public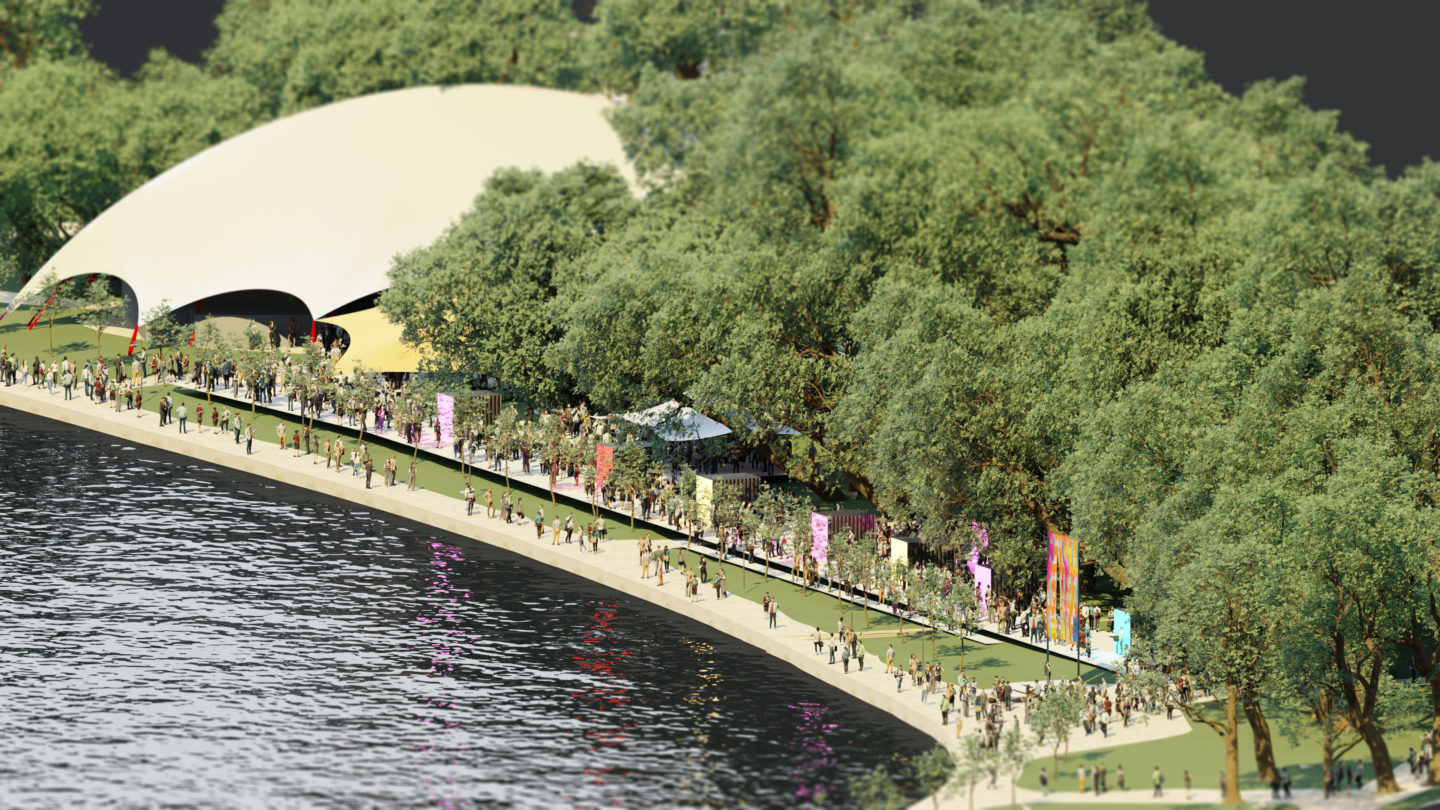 During the Helsinki Festival, 12 August to 4 September, the Huvila Festival Tent will expand to Tokoinranta waterfront park. The new Huvilanranta area, which will be open to the public, will not only stage an extensive selection of food and beverages but also a free festival programme. The series of 24 evening concerts at Huvila will kick off with a stirring musical spectacle by Taylor Mac.
Huvila, which has featured on Tokoinranta waterfront each August since 1995, will expand into a festival park and verdant summer terrace open to the public during the Helsinki Festival. The free Huvilanranta waterfront area to be erected in the park between Huvila and Ympyrätalo will provide a setting to enjoy some food and a drink or two before or after a concert or otherwise.
Huvilanranta will become a cosy summer oasis, where art and a programme will be on the menu as well as taste experiences. Food Camp Finland, which specialises in experiential dining experiences, will curate a comprehensive line up of food and beverages at the many pop-up restaurants in the terrace area in the vicinity of the waterfront. Huvilanranta will be open from lunchtime until late evening and there are plans to include discussions, meetings with artists and DJ performances in the programme.
Huvilanranta will be designed by prize-winning JKMM Architects and be carried out so as to protect the grass areas of the park. At the same time, improvements will be made to the Huvila concert area, the venue for paid events. More toilet facilities and covered lounge and restaurant areas will be available in the vicinity of Huvila. Improved entrances and stand structures will improve accessibility and ease people flows.
"Huvila is the only Helsinki Festival performance venue to have over the decades become a Festival symbol and an August landmark in the Helsinki cityscape. Designed by architect Roy Mänttäri, the structures deserve an update once in 30 years," says Stuba Nikula, CEO of Helsinki Events Foundation. "The update will make it possible to serve more Helsinki residents and to better meet expectations that have grown over the years of concerts as holistic experiences."
Taylor Mac will kick off the Huvila concert series to be announced next week
The festival period will be longer than earlier and will see a line-up of as many as 24 concert evenings in Huvila. The concert series will kick off on 12 August when Taylor Mac will bring something completely different to Tokoinranta as A 24-Decade History of Popular Music – Abridged takes over the stage for two evenings. The three-hour performance, which draws on the drag tradition of a theatre-artist and Pulitzer prize finalist in drama, will take the audience on an eye-opening musical marathon across US history from the civil rights perspective.
The full Helsinki Festival and Huvila programme will be published and tickets will come on sale on Thursday 21 April.
Helsinki Festival's main partners are Helsingin Sanomat and Elisa, the sponsor is Accenture and service partners are Aku's Factory, hasan & partners, Heku, Marski by Scandic, PunaMusta and Renault.