Surrender to art: Helsinki Festival will take place from 19 August to 5 September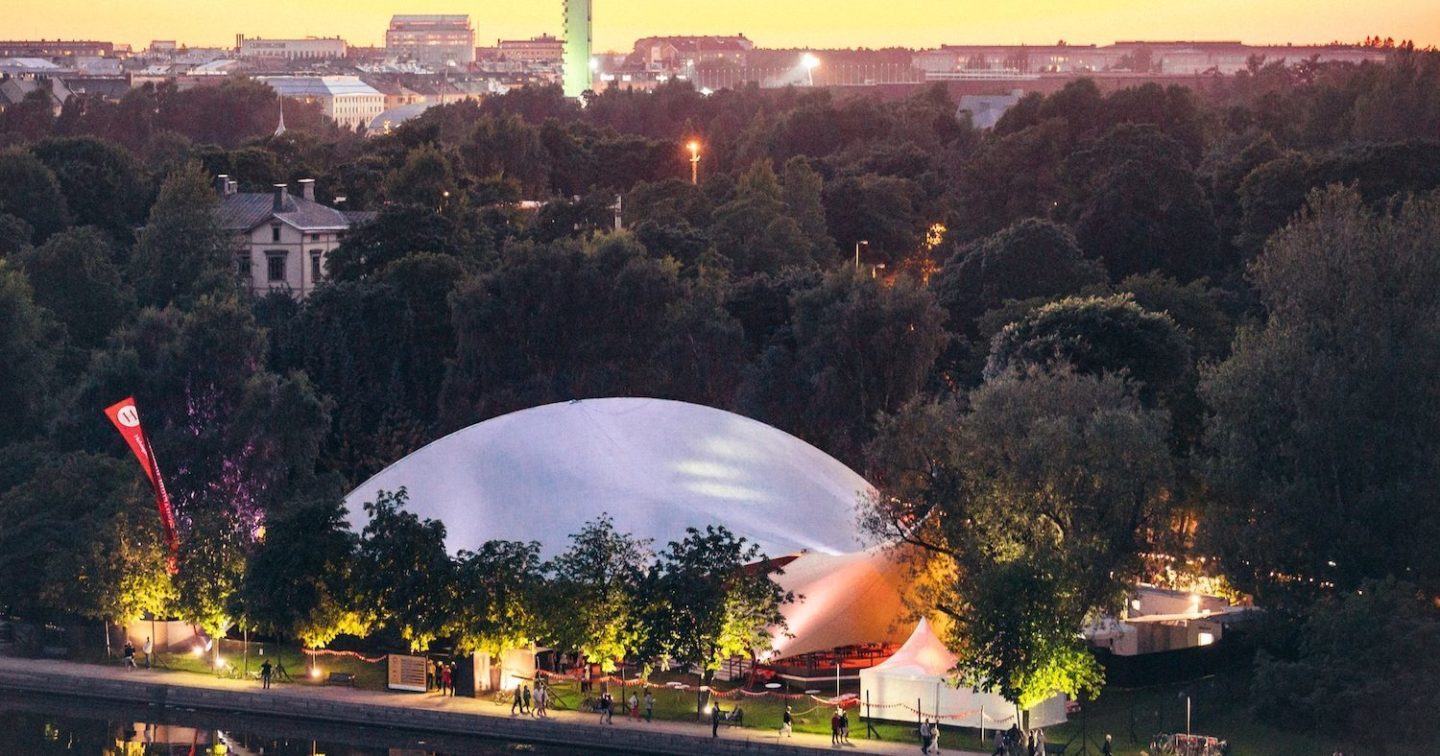 The line-up of international star guests at this year's festival includes pioneer producer and visual artist Brian Eno, choreographer Boris Charmatz, visual artist Janet Echelman, pianist Vikingur Ólafsson and soprano Nina Stemme. Wonderfeel, a new three-day laid back classical festival, will take place at Tokoinranta waterfront and in the Huvila Festival Tent during the Helsinki Festival opening weekend. In addition, hundreds of Art Gifts and Block Concerts will surprise people in yards around the city.
"The artist Brian Eno has aptly said that while we humans often seek control, it is an important role of art to help us to surrender. To give up control.
It required a global pandemic to remind us that we can never control complex systems, and that art is more valuable to us than ever in these times.
Surrender to art. Spend a day at Eno's exhibition at the music center, take a wristband to Wonderfeel, witness Charmatz's 10,000 Gestures at the Cable Factory, request a courtyard concert with your neighbours or order an art gift to a loved one.
It takes courage to surrender to art, but we can together. Welcome to Helsinki Festival 2021."
Marko Ahtisaari, Artistic Director
Helsinki Festival will again take place from 19 August to 5 September. The opening concert of the Festival will be by Helsinki Philharmonic Orchestra, who will interpret Philip Glass' Heroes Symphony, which is based on David Bowies' classic Berlin Trilogy album. The original album was produced by Brian Eno, whose unique video installation 77 Million Paintings and Other Audio-Visual Works can be experienced daily at Musiikkitalo throughout the Festival. A piano concert by Roger Eno, Brian Eno's brother, will also be heard on the opening evening. The Kino Regina cinema in Oodi will screen For All Mankind, a documentary film made of original footage from the Apollo moon landings, and other films for which Brian Eno has composed music.
A new classical festival, Wonderfeel Helsinki, will feature top names in the world of classical and contemporary music and offer jazz nuances in the great outdoors on the Tokoinranta waterfront and the Huvila venue during the opening weekend of Helsinki Festival. Top pianist Vikingur Ólafsson, world-class vocal ensemble Theatre of Voices, the award-winning Marmen Quartet and Pekka Kuusisto directing the Radio Symphony Orchestra will be among the sounds heard at the Festival. The programme has been curated by Eriikka Maalismaa, Antti Tikkanen, Minna Pensola and Heta Aho, together with the Helsinki Festival team. One-, two- and three-day festival wristbands are on sale for the full programme.
J. Karjalainen, 22-Pistepirkko, Yona & Tapiola Sinfonietta, Yeboyah, Vesta, Jesse Markin, Ringa Manner & UMO Helsinki Jazz Orchestra, Pepe Willberg & Jukka Eskola Statement and Oranssi Pazuzu are just some the names who will be taking the stage during the Festival. Other arrivals to Helsinki, include Sons of Kemet, which airs jazz traditions, Songhoy Blues, the Mali desert blues group, the soulful Alice Phoebe Lou as well as a crowd of artists under the London-based Erased Tapes independent record label: Penguin Cafe, Anne Müller and Douglas Dare.
Besides on Tokoinranta waterfront, leading names in classical music will also be seen and heard in concert halls. Helsinki Music Centre will be the backdrop not just for performances by Vikingur Ólafsson, but also by top violinist Baiba Skride and friends, Philharmonix, consisting of members of the Vienna and Berlin philharmonic orchestras, Camerata RCO, a chamber music ensemble formed from members of the Royal Concertgebouw Orchestra, as well as leading soprano Nina Stemme, interpreting Wagner at the Baltic Sea Day gala concert.
French choreographer's Boris Charmatz's work 10 000 Gestures is considered to be one of the most important contemporary dance and dramatic art performances of recent years. In the work, each dancer performs an uncountable number of gestures without repeating any of them. Charmatzi's A Dancer´s Day provides a glimpse into the creation of a dance piece. The Cable Factory will also see the Finnish première of Tero Saarinen Company's Transit work, where dance is in dialogue with Sebastian Fagerlund's music and artist duo IC-98's video installation, as well as Tiia Kasurinen's I'm Not Entirely Here (Cybersad).
Janet Echelman's sculpture installation 1.78, which is suspended above Senate Square by the Helsinki Biennial, will be brought to life on the Helsinki Festival opening day, when a live sound space work by Läns­man, Norvio & Rinne plays in the background. A I S T I T / Coming to Our Senses is an international contemporary arts programme of exhibitions and performances that can be seen in the city. Besides Blick, the multisensory work of art by Raija Malka and Kaija Saariaho, Amos Rex will also be the venue for Extasis, a concert by Saariaho and Jean-Baptiste Barrière.
Last summer's hugely popular Art Gifts and Block Concerts will be even more extensive this year. Anyone can order a 5-10 minute surprise performance by a musician, poet or performing arts professional in a loved one's yard or under their window. In August, up to one thousand Art Gifts will be available for the general public to order free of charge in cooperation with OP Bank, one of our partners. In addition, some 50 Block Concerts will take place in Helsinki yards during the first weekend of September together with partner Helsingin Sanomat.

Art goes Kapakka, Runokuu, SAMPO Festival, Viapori Jazz, Perttu Häkkinen Foundation's subculture day, Helsinki Opera summer, Outsider Art Festival and Helsinki Lit will also take place as Helsinki Festival's friend festivals.
Helsinki Festival tickets will be on sale in Ticketmaster channels in Finland from Wednesday 2 June. All festival events will take place in accordance with the safety requirements in force at the time of the event and limited tickets will be available taking into account safe distancing. Particular attention will be given to hygiene and distancing at Festival venues.