Huvilanranta Festival Park brings new architecture and food experiences to Hakaniemi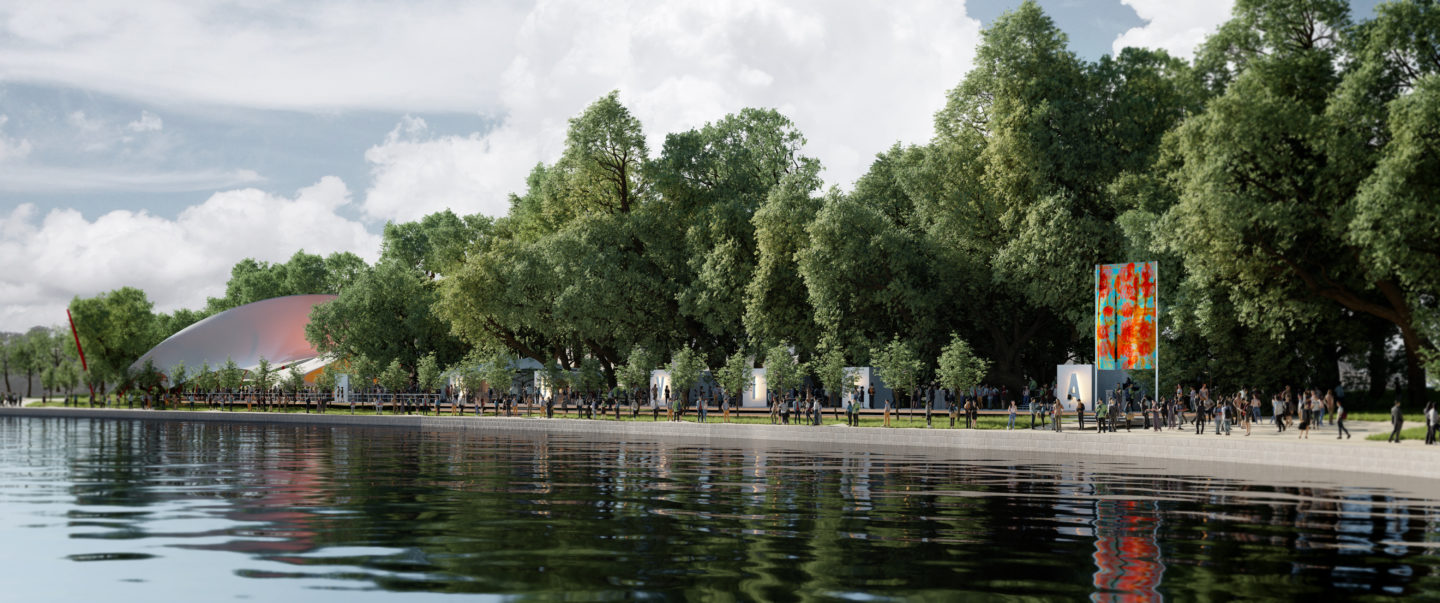 Huvilanranta, which will offer a top-quality food and drink selection as well as a free programme every day, will open on Friday, 12 August next to Huvila, Helsinki Festival's dedicated festival hub. The area open to the public will serve customers from lunch until late in the evening for the duration of the Helsinki Festival, until 4 September.
Huvilanranta Festival Park has been designed by JKMM Architects, winners of the Finlandia Prize for Architecture and known for sites such as Amos Rex and Dance House Helsinki. The unique project is a masterpiece of temporary architecture and the launch of a new kind of urban culture in Helsinki. The Huvila concert area, the venue for paid events, is also being developed. "Huvilanranta is a 150-metre wooden gift to the people of Helsinki, and will bring together people, sounds, flavours, foliage and moonlight. Is it an installation, a bower or a catwalk? Come and find out," says architect Teemu Kurkela.
Huvilanranta will offer a selection of great drinks and food every day from 11:00 until 23:00. The menu at the Inari restaurant combines Finnish cuisine and Asian influences in an innovative way, and Happy Waffle Helsinki will bring its gluten-free versions of the Hong Kong egg waffle to Huvilanranta for the duration of the festival. The classic Kallio restaurant Silvoplee will serve vegan dishes until 24 August, and Bunit's bao buns will provide warm Asian flavours at Huvilanranta from 25 August onwards.
There will also be a free programme at Huvilanranta every day during the festival. You'll be able to enjoy relaxed after-work vibes on weekdays, DJ sets that will get you in the mood for Saturday night as well as mellow Sundays with DJ Slow. There will be talks and meet and greets with festival artists. On Wednesdays, music will be discussed during the Huvila albums show on Radio Helsinki.
Huvilanranta will host a marine programme in cooperation with the John Nurminen Foundation on Baltic Sea Day, 25 August. You will also be able to immerse yourself in the sound installation Miltä Suomi kuulostaa? ('What does Finland sound like?') on weekdays, and after every evening concert, the summer night will ring with night music from the University of the Arts Helsinki.
Huvila to host stars from Kurt Vila to Tinariwen
The extended Helsinki Festival will bring an extensive range of genres to the revamped Huvila, from soul to indie and from jazz music to children's music. Those taking the stage include Taylor Mac, Angélique Kidjo, Agnes Obel, Kurt Vile & The Violators, Low, Tinariwen and Wigwam Experience.
The other highlights of the festival programme will include visiting acts of contemporary dance at Dance House Helsinki, featuring Boris Charmatz's 10000 gestures, and Tree of Codes by Wayne McGregor, Olafur Eliasson and Jamie xx. Helsinki Music Centre will also host stars of classical music, from Mahler Chamber Orchestra to Patricia Kopatchinskaja and from Daniil Trifonov to Magdalena Kožená.